CAMOUFLAGE HISTORY
Part two 1987-1988: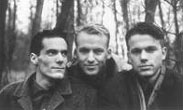 In 1987 "The Great Commandment" was again reworked with Axel Henniger in his studio and the song was released in Germany in September that year. On August 16th Camouflage had already made their debut with the presentation of "The Great Commandment" in the TV program "Spruchreif" on German Television. The single reached #14 in the German charts and in February 1988 the follow-up single "Strangers' Thoughts" appeared which climbed to #20 in the charts.
The debut album "Voices & Images" was released in March 1988 and was followed in May by the third single "Neighbours" (Chart position 57). All three singles were added to regular rotations by radio stations and Camouflage were frequent guests on TV with performances of each of the three singles (e.g. the ZDF-Hitparade).
The success was not only limited to Germany. During December of 1988 Camouflage's single "The Great Commandment" reached number 1 in the Billboard Dance Charts on three separate occasions. Many of the small radio stations fed the Camouflage frenzy. During a visit to New York that same year, Heiko, Marcus and Oli signed a contract with the American record company Atlantic for releases in the American market. During the Fall "Voices and Images" was released in the USA and at the beginning of 1989 the single "The Great Commandment" reached #59 in the Billboard Hot 100 Sales Chart. In the US market "That Smiling Face" was selected as a second single from the album.