The new single "Count on Me" out on Oct. 9, 2015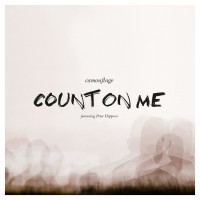 (2015/09/24) The new single "Count on Me" feat. Peter Heppner is scheduled for release on October 9, 2015. The single will be available in CD and 12" vinyl formats. The tracklist for both formats is as follows:

1. Count On Me (Single Version, 3:54)
2. Count On Me (Demo Mix, 4:50)
3. Count On Me (Die Wilde Jagd Remix, 6:39)
4. Count On Me (Klaak Remix, 5:18)
5. Count On Me (Chevy Baccole Oceanside Mix, 4:06)
6. Shine (88 Ninety's 'orbiting The Sun' Remix, 6:00
"Greyscale" Live @ South America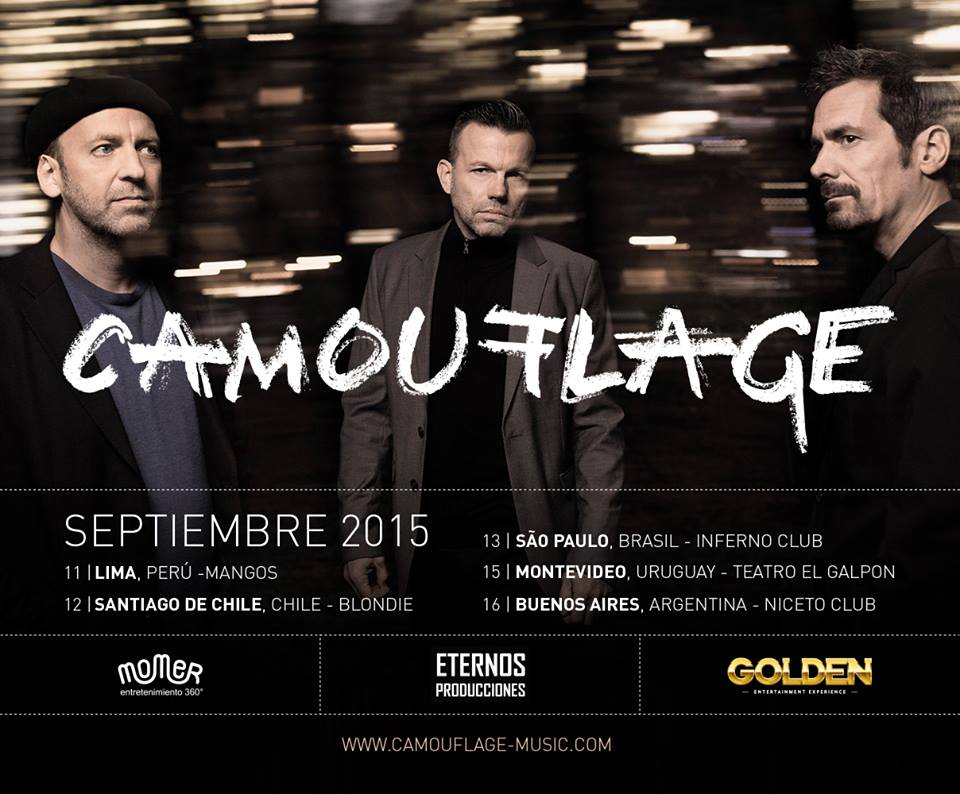 (2015/08/30) Camouflage plays five shows in South America this september in Lima (Peru), Santiago De Chile (Chile), São Paulo (Brazil), Montevideo (Uruguay) and Buenos Aires (Argentina).
Festival Appearance in Moscow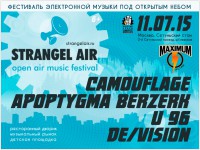 (2015/07/02) On July 11, 2015 Camouflage will perform as the headliner at the Open Air Festival "Strangel Air" in Moscow, Russia. De/Vision, U96, and Apoptygma Berzerk will also be performing at the festival.
- Strangel Air @ Facebook
- Tickets @ www.muzzbilet.ru
Concert Recording Broadcast this Sunday on the radio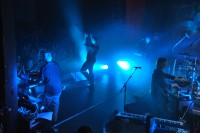 (2015/04/26) The concert in Stuttgart during the Greyscale tour in March was recorded by SWR and will be broadcast this Sunday, April 26, 2015. The broadcast will begin at 10:00pm CET on Radio SWR 1 Baden-Württemberg:
www.swr.de
Shine Remix Vinyl online available
(2015/04/19) The exclusive SHINE Remix Vinyl 12" EP is currently also available at the online shop of Bureau B / Tapete Records: shop.tapeterecords.com
Camouflage T-Shirts now available online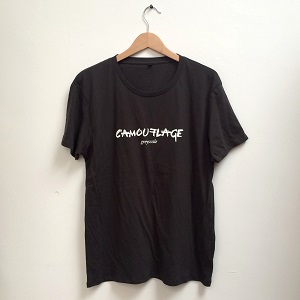 (2015/04/12) The online shop of Bureau B / Tapete Records now includes t-shirts from the current "Greyscale" Tour. During the tour the demand for certain sizes led to some shortages. All sizes are now available online. (UPDATE: XXL is already sold out)
shop.tapeterecords.com
Shine 8 Track EP Vinyl April 18, 2015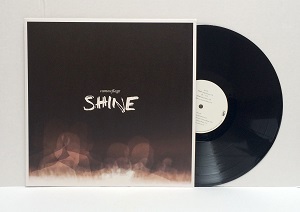 (2015/04/06) Exclusive for Record Store Day 2015 in Germany, the single "Shine" will be available in vinyl format at participating stores. A list of shops is found at recordstoredaygermany.de.
Concert attendees during the Greyscale Tour already had an advance opportunity to purchase the vinyl at the merchandise stand. All 4 remixes found on the b-side of the vinyl are exclusively found on this 12". The tracklist is as follows:

A-Side:
1. Shine (Single Version)
2. If ...
3. Shine (Klaak Remix)
4. Shine (Car Crash Set Remix)

B-Side:
1. Shine (Die Krupps Remix)
2. Shine (Hans Nieswandt & Levent Canseven Remix)
3. Shine (Roedelius Schneider Remix)
4. Shine (Pyrolator Remix)
Interview with Heiko at Radio Station Fresh80s
(2015/04/06) Prior to the concert at the Hamburg Docks last month, radio station Fresh80s recorded a 20 minute interview (in German) with Heiko Maile. In the broadcast "Talkstelle" at Fresh80s radio Heiko speaks about Camouflage's past and present. Enjoy listening:
www.fresh80s.de
Live recording on Radio SWR1 April 26, 2015
(2015/04/06) The broadcast of the live recording from Camouflage's Greyscale Tour stop in Stuttgart, Germany has been postponed until April 26, 2015 due to technical reasons. The concert will be broadcast on that day beginning at 8pm Central European Summer Time at radio station SWR1 Baden-Württemberg.
www.swr.de
Camouflage at MDR TV
(2015/04/06) Camouflage were guests for nearly a half hour on March 25, 2015 during the live studio broadcast from the German TV Sender MDR. Marcus, Oli, and Heiko respond to questions about current movements and the band's history. Have fun watching!

« Previous