"Leave Your Room Behind" Snippet
(2015/01/25) "Leave Your Room Behind" snippet from the album "Greyscale"


Photos for Greyscale Booklet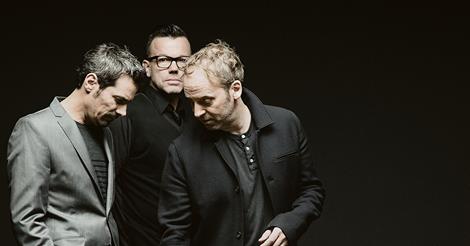 (2015/01/15) The Berlin-based photographer Klaus Mellenthin has captured the current Camouflage photos for the soon to be released album "Greyscale". A selection of these excellent images are already available on his website!
http://blog.bff.de/camouflage-greyscale/
"Anyone" - Xmas Download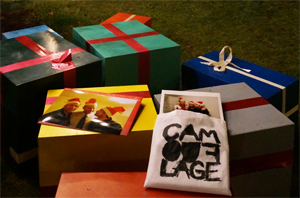 (2014/12/24) Camouflage and the Info-Team wish you a Merry Christmas and a blessed New Year as we approach the transition into 2015. The Christmas gift this year fits under the motto of "25 years Methods of Silence". The very successful worldwide release of the album in 1989 was a significant milestone in the band's history. "Methods of Silence" spent 24 weeks in the German album charts. The first single from the album "Love Is A Shield" spent more than a half year in the German singles chart - 29 weeks from May to December in 1989.
Camouflage have sought out the title "Anyone" in it's "Rough Mix" and are presenting this as a Christmas download. This version was recorded in 1989 at the Synsound Studio in Brussels with Dan Lacksman. In contrast to the final version, this rough version is missing the guitar parts from Ingo Ito. The lyrics also differ from the final version with some differences being subtle and others being significant. Enjoy listening!


Greyscale News
(2014/12/19) The new album "Greyscale" will be release on March 6, 2015 in Germany and March 27, 2015 in other regions. The release will be available as a CD, limited CD, vinyl (including CD) and as a download. All formats will be released on the label Bureau B. The first teasers are now available for the titles Shine, End of Words, and Laughing. Greyscale will include a total of 12 new tracks. The song "Count on Me" is a duet with Marcus and vocalist Peter Heppner of Wolfsheim!



The full tracklist for the album Greyscale is as follows:
1. Shine
2. Laughing
3. In The Cloud
4. Count On Me (feat. Peter Heppner)
5. Greyscale
6. Still
7. Misery
8. Leave Your Room Behind
9. Light Grey
10. End Of Words
11. Dark Grey
12. I'll Find

Photos and more information are available at:
http://www.bureau-b.com/camouflage.php

Greyscale Snippet # 4 - Shine
(2014/10/30) This new snippet from Greyscale includes a clip taken during the mixing session for the song "Shine" at Jochen Schmallbachs "Stehende Welle" studio in Berlin. Heiko, Marcus and Jochen are present.



http://vimeo.com/110131438
« Previous