Camouflage Live @ MEXICO CITY - NEW VENUE !!!
(2013/05/08) The venue of our show in Mexico City (May 17th 2013) has changed. The concert will take place at the "Pepsi Center".
www.pepsicenterwtc.com


Camouflage Live @ Santiago de Chile - NEW VENUE !!!
(2013/04/17) Camouflage Live 2013/05/10 @ - CHILE, Santiago de Chile UPDATE:
The venue has been changed
New venue: BLONDIE
www.blondie.cl
Camouflage Live @ LIMA PERU - UPDATE !!!!!!
(2013/04/11) The venue for our concert in Lima has changed:

Date: May 9th, 2013
New venue: GOTICA http://www.gotica.com.pe/
Tickets: http://www.tuentrada.com.pe/
Fine Electronic Music Since 1983
(2013/03/30) Camouflage and Deutsches Filmorchester Babelsberg:

During 2013 Camouflage are celebrating their 30 year anniversary as a band. Camouflage has recorded a track in cooperation with the Deutsches Filmorchester Babelsberg and is giving this as a gift to their fans. In "Camouflage Overture" familiar melodies from seven Camouflage songs have been woven together. Do you recognize all the songs? Have fun listening and guessing!
30 Years – Stage Anniversary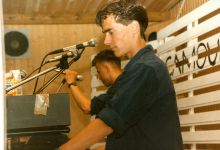 (2013/03/29) In early 1984 Heiko, Oli, and Marcus gave their first live concert and also changed their band name from their original "Lizenced Technology" (founded 1983) to "Camouflage". To celebrate the 30th stage anniversary of these milestone events Camouflage has scheduled an anniversary concert for February 8, 2014 at the Dresden's Eventwerk. Tickets for this event are already available through Eventim for 30.95 Euro. Further details about this concert will follow.
» 08.02.2014 Dresden - Tickets bei Eventim.de
« Previous