Greyscale Snippet #02
(2014/04/21) Synth programmings for "Solar" demo:


GREYSCALE Snippet #01
(2014/03/26) Editing vocals for the new song "Laughing" from our upcoming album "GREYSCALE":


http://vimeo.com/89926509
Greyscale Tour 2015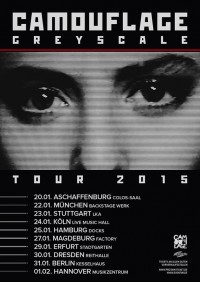 (2014/03/09) The new album "Greyscale" will be released in September 2014 and the follow-up activity for the album has already made known. In January 2015 an accompanying tour is planned through ten German cities. Tickets for the shows have been available since February 20, 2014 and can be purchased at Eventim and in the Protain Shop.

· 2015/01/20 - Aschaffenburg
· 2015/01/22 - Munich
· 2015/01/23 - Stuttgart
· 2015/01/24 - Cologne
· 2015/01/25 - Hamburg
· 2015/01/27 - Magdeburg
· 2015/01/29 - Erfurt
· 2015/01/30 - Dresden
· 2015/01/31 - Berlin
· 2015/02/01 - Hanover
Concerts in Russia, Ukraine and Belarus in May 2014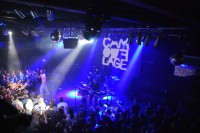 (2014/03/03) Camouflage will play in these cities in may this year:
· May 09, 2014 St. Petersburg (RU)
· May 11, 2014 Yekaterinburg (RU)
· May 13, 2014 Krasnodar (RU)
· May 14, 2014 Moscow (RU)
· May 15, 2014 Kiev (UKR)
· May 16, 2014 Minsk (BLR)
Review of the 30 anniversary concert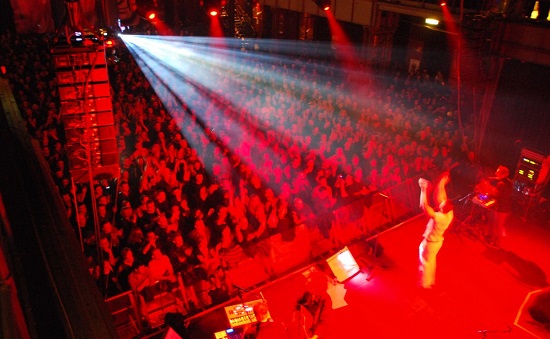 (2014/02/26) The concert in Dresden on February 8, 29014 marked the 30 year band and stage anniversary for Camouflage. The doors opened at 6:30 in the evening offering attendees the opportunity to explore the exhibit of photographs, collector's items, recordings, a reconstruction of the Boys Factory Studio from the early years and past stage decorations.
At the merchandise stand visitors had among other things the first chance to obtain the limited edition CD box set "The Box 1983-2013". Shortly after 8:30 that evening the concert opened with "Kling Klang" and "Fade in Memory". Fans were overjoyed by hearing songs that had not been played live for many years. As part of the core ensemble of the group, Heiko, Oli, and Marcus were again joined by Jochen Schmalbach on drums and Volker Hinkel on guitar. For many of the songs, musical companions from the bands history joined them on-stage.
The following guests were on stage that evening: Former and founding Camouflage member Martin Kähling, Ideal Drummer Hansi Behrendt, 1989 Tour Keyboarder Robin Pohle (aka Robin Loxley), 1989 ind 1991 Tour Drummer Thomas Dörr, 1989-1995 Tour Guitarist Ingo Ito, 1991 Tour Violinist Julian Boyd (per video projection screen), female guest vocalist from the album Bodega Bohemia Julia Synder (Julie Ocean) and Film Composer Christoph Zirngibl at keyboards. Additional vocal partners during the evening were Steffen Keth and at keyboards Thomas Adam of De/Vision, Felix Räuber of Polarkreis 18, and Peter Heppner.
After a total of 27 songs the concert came to an end and was then followed by celebrations at an after-show party. At the DJ booth, Marcus Meyn continued to excite the crowd on the dance floor. For those who were not able to attend, you will find a few videos, photos and the set list at this link.
« Previous