Quadruple Gold for Camouflage in Berlin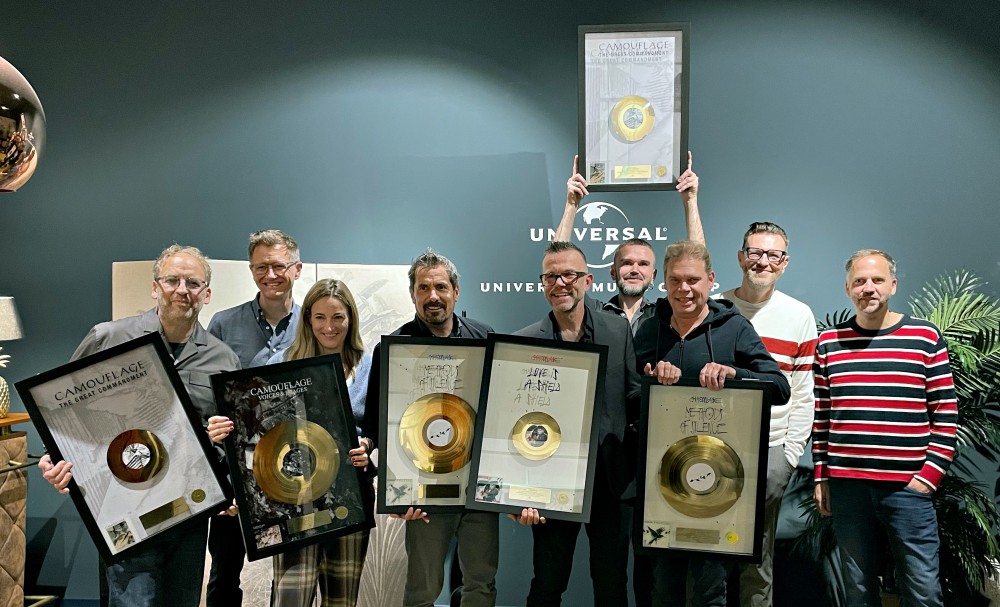 (2023/11/02)

Photo (from left to right):
Heiko Maile (Camouflage), Asterix Westphal (Camouflage attorney), Stefanie Zoll (Senior Product Manager Catalogue, Universal Music), Oliver Kreyssig (Camouflage), Marcus Meyn (Camouflage), Thomas Thyssen (Director Catalogue Domestic, Universal Music), Tom Bohne (President Music, Universal Music), Lutz Stoever (Management Camouflage), Gunther Buskies (Bureau B, Management Camouflage)

Credits: © Universal Music

--

Berlin/Germany, 2023/11/02. Over 35 years after its initial release, Camouflage's debut album "Voices & Images" - which has sold over 500,000 copies worldwide - together with the band's second album "Methods Of Silence", which sold over 250,000 units in Germany, have now both been honored with a Gold Award. These are the first officially verifiable album awards in the band's career.


In September 1987, the German electro-pop band Camouflage released their debut single "The Great Commandment", which made the trio Heiko Maile, Marcus Meyn and Oliver Kreyssig famous across all national borders.


Due to the modern sound, characterized by electronic elements, the hype ultimately outgrew the German homeland. The single reached the top 10 in more than 20 countries, and "The Great Commandment" even became a number 1 hit in US dance club songs, resulting in fans around the globe.


In March 1988, "Voices & Images" was released, the band's debut album, which immediately made it to number 16 in the German charts. The album entered the US Billboard 200 for the first time on January 14, 1989, where it recorded its best placement at number 100.


This momentum led to the next international hit a short time later. With the single "Love Is A Shield" from the follow-up album "Methods Of Silence", which was released in June 1989, Camouflage finally achieved another major success. The single remained in the German charts for over 6 months and climbed to number 9. The album also made it into the top 20 and reached number 13 in the German charts, where it remained for over 24 weeks.


The coveted Gold Awards for all four releases were presented at the Universal Music headquarters in Berlin in the presence of the band and management.


But that wasn't the only pleasant topic at the meeting: next year, the successful trio have another big celebration coming up, as Camouflage will be celebrating their 40th anniversary as a band in 2024 and will finally be performing live again in eleven German cities in October of that year.


This big anniversary will be celebrated and honored in cooperation with the Catalogue Domestic division of Universal Music Germany with further extensive catalogue promotions. Fans worldwide can therefore look forward to seeing what else can be expected from Camouflage!


Camouflage: "The albums and singles that have now gone gold are the cornerstone of our 40-year band history. It's great to see that our music is not only appreciated by our loyal fans around the world, but now also officially by BVMI/IFPI. A large part of our repertoire is in the hands of Universal Music Germany and we are therefore particularly looking forward to the newly focused collaboration with the Catalogue Domestic division. Moments like this point to the future as well as to the past. It was a matter close to our hearts to thank our former manager Karin Wirthmann and the producers of the albums, Axel Henninger and Dan Lacksman, with an award. Many thanks also go to our partners Lutz Stoever, Asterix Westphal and above all Gunther Buskies, who accompanied us for many months and advised us on the repositioning of our back catalog."


Tom Bohne (President Music, Universal Music): "I am delighted to be able to celebrate this long overdue milestone together with the band. Camouflage have helped shape electro and pop culture in Germany for decades and we will be celebrating this exceptional status again next year on the band's 40th anniversary. But first: congratulations on quadruple gold!"


Thomas Thyssen (Director Catalogue Domestic, Universal Music): "It's a full circle moment: quadruple gold, the band's 40th anniversary next year and an extensive live tour! Since their debut in the 80s, Camouflage have created songs that are timeless and yet capture the zeitgeist of this formative decade for pop culture, while also mastering the transition into the streaming age with flying colors. We look forward to a fitting anniversary year together in 2024."